LE GRAND CAFE FAUCHON | TRADITIONNAL CUISINE
2 Boulevard Malesherbes 75008 PARIS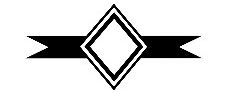 TRADITIONAL_CUISINE
RESTAURANT DESCRIPTION :
Food is our soul. Since 1886, Maison Fauchon has used the finest produce to create world-famous taste experiences. Now, we've gone a step further : discover our stunning food in our spectacular restaurant, Le Grand Café Fauchon.
ABOUT THE CHEFS
Our chefs have excelled in creating hundreds of new creations annually with the trinity of great produce, freshness and seasonality. Their mind set is that a dish is never finished and can always change and improve according to availability and seasonality. You might explore the Chef's signature dishes of scallops with strawberries or mango and shrimp or foie gras cooked in Champagne. Or settle for the more straightforward grilled lobster and beef carpaccio from Limousin. Our pastry chefs are renowned throughout France and the world for their creative flair, whether it is our Bisou-Bisou, Chocolate Éclairs or special pastries.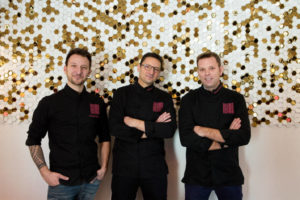 Pastry Chef Fauchon – François Daubinet
Chef cuisine Fauchon – Sébastien Monceau
Chef cuisine Fauchon hotel- Frédéric Claudel
ABOUT OUR CUISINE

French cuisine is provided by our Chef frédéric Claudel. His signature plat is the Riso or The œuf mollet.
Dining Experience: Small plates or Chef's signature dishes
The famous desert "Bisou Bisou" Symbol of the Maison
The sublime sunny terrace of 40 seats, with breathtaking views of the Madeleine
Heart of Lettuce, Organic Mozzarella, Fig Vinaigrette

13 €

Tomato Soup with spicy Honey, Brunoise with crunchy vegetables, Melba Bread and Basil

16 €

Soft-boiled Egg, Chanterelles with Apricots and sparkle of Almonds, Vegetable foam

18 €

Seasonal Vegetables, Verbena-Lemon Vinaigrette

20 €

Riso Pasta "like a Risotto" summer Truffle from "Bourgogne", fragrant with Truffle oil FAUCHON

24 €
Smoked Salmon Cannelloni, Celery Remoulade, Granny Smith

20 €

Mediterranean Tuna Carpaccio, Vinaigrette "Yuzu", Riquette and Parmesan crumble

22 €

Norway Lobster Ravioli, "Wok way" Vegetables, consumed with "Rooibos"

24 €

Fillet of Grilled Seabream and Zucchini à la plancha, Candied tomatoes, condiment Chorizo-Mussels

28 €

Roasted Half Coastal Sole, new Potatoes, Condiment from "Grenoble"

37 €

Riso Pasta "like a Risotto", European Lobster, Creamy Bisque

38 €

20gr Baeri Caviar, Isigny fresh cream & Brioche-like blotter

60 €

Fauchon Poultry Pâté in pastry crust, "Grosses Côtes", Curly Lettuce

22 €

Duck Foie Gras from Jean Sarthe Farm in South West France, declination of Figs

24 €

Roasted Supreme of Gatinais Poultry, Chanterelles with Hazelnut, Potato muslin

26 €

Candied Pork belly from Auvergne, green Beans salad, fresh Almonds and Peach

27 €

Ham black Pork from "Gascon", Virgin sauce and Potato ratte

30 €

Lamb in two ways, Artichoke Riquette and Piquillos, Anchovies-Olives condiments

32 €

Filet of Beef "Rouge des Près", new Potatoes, heart of Romaine

36 €
Fresh Fig Salad, Fauchon Tea Juice

11 €

Eclair of the moment

11 €

Red Berries "Bisou-Bisou"

11 €

Vanilla Millefeuille

11 €




The menus are changing according to seasons and products
Grand Café Fauchon with Terrace
Pastries from Fauchon
Average Prices : Cocktails 18 € & Mocktails 12 €
The menus are changing according to seasons and products
The Menus and the "Carte" are changing according to seasons and products
Address : 2 Boulevard Malesherbes , Paris, France
Neighbourhood : Place de la Madeleine
Phone number :+33 (0)1 44 29 98 29
RESTAURANT LES DEUX MAGOTS

VILLA DU MUSEE 196